7 Ways You Can Pay for Your Event Tickets on Tix
Paying for event tickets should be easy, just like on Tix. In case you didn't know, you can buy an event ticket on Tix in less than 10 minutes! We're here to make it easy and fun for you, and that's why Tix offers various payment methods, including credit/debit cards, transfers, USSD, and bank payments through our payment gateway, Paystack, and directly from your wallet on Chipper.
Whether you're tech-savvy or not, we've got you covered. So sit back, relax, and let us walk you through the different ways you can pay for event tickets on Tix!
Credit & Debit Cards
One of the most popular ways people pay for event tickets on Tix is by using a credit or debit card. Tix accepts major credit cards such as Visa, Mastercard, American Express, and more. If you're outside Nigeria and Ghana and would like to use a foreign card to buy event tickets for your vacation, not to worry! Foreign cards are accepted on Tix. When paying with a credit or debit card, you will be required to provide your card details, such as the card number, expiration date, and security code. Tix uses Paystack, a secure payment gateway to process all transactions, so you can be sure that your card details are safe.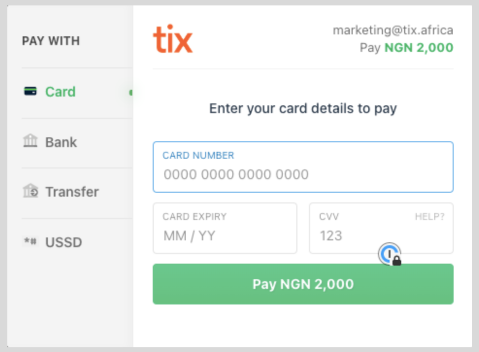 Apple Pay
If you're an Apple user, you probably know about Apple Pay – the digital wallet that allows you to securely store your credit and debit card information and make payments with just a tap of your iPhone or Apple Watch. And if you're an Apple user that frequently purchases event tickets online, you'll be glad to know that Tix accepts Apple Pay as a payment option.
Using Apple Pay to purchase event tickets on Tix is a breeze. Here's how to do it:
First, make sure you have set up Apple Pay on your iPhone. If you haven't done this already, go to the Wallet app on your device and follow the instructions to add a credit or debit card to your digital wallet.
When you're ready to purchase tickets for an event on Tix, simply select the number of tickets you want and proceed to the checkout page.
On the checkout page, you'll see several payment options, including Apple Pay. Select this option, and you'll be prompted to authenticate the payment using Touch ID or Face ID (depending on your device).
Once the payment is authenticated, you'll receive an email from Tix with your ticket!
Transfer
Another payment option you can use on Tix is bank transfer. We've recently seen an increase in the number of people who opt for this method, probably because of how convenient it is. It's a great way to pay for your tickets if you don't have your card around you or if you don't like putting your card details online. This option allows you to transfer funds from your bank account directly to Tix's bank account. Once the transfer has been completed, we'll confirm your payment and email you your ticket confirmation right away!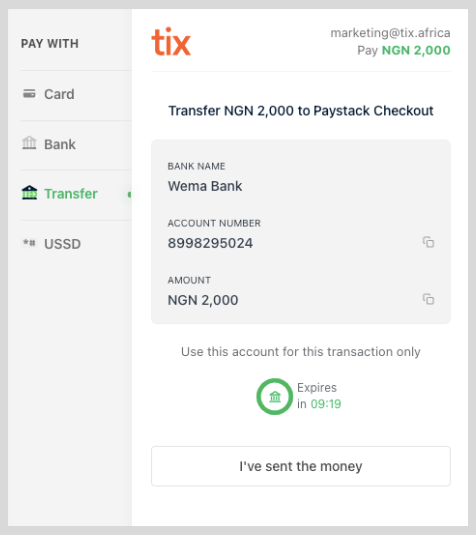 Bank
If you prefer to pay for your event tickets using your bank's online banking platform, we've made that easy for you. All you need to do is select the bank payment option and follow the prompts. You will be redirected to your bank's website, where you can log in to your account and complete the payment.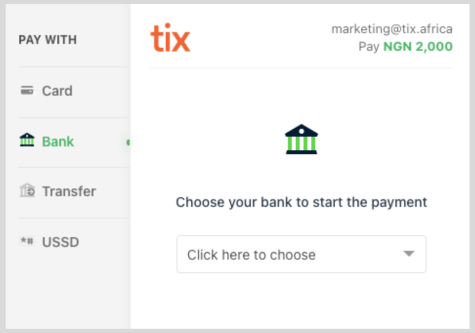 Mobile Money
Mobile Money has become increasingly popular in Ghana as a payment method for various services, including buying event tickets online on Tix. Mobile Money is a payment service that allows users to make payments, transfer money, and pay bills using their mobile phones.
Using Mobile Money to pay for event tickets on Tix is quick and convenient, because you can complete the entire checkout process on your mobile phone. It's also a safe and secure payment method, as you don't have to disclose your bank account details or card information.
USSD
For people who prefer to pay for their event tickets with USSD, we've got you covered! To use this, pick USSD as a payment option and follow the prompts to complete the transaction!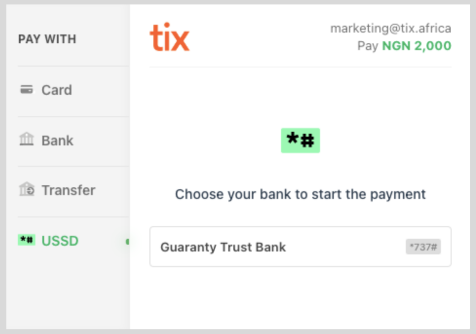 Chipper
Finally, we recently partnered with Chipper, a platform that allows users to send and receive money, pay bills, buy airtime and create virtual USD cards. With Chipper, you can pay for your event tickets directly from your wallet. This is great for people who use Chipper! We wrote a blog post on to pay for your event tickets with Chipper, so check it out here.
In conclusion, Tix has made it easy and convenient for event attendees to pay for their event tickets through a variety of payment options. Whether you prefer using your credit or debit card, bank transfer, USSD, or Chipper, Tix has got you covered. With this range of payment options, you can choose the best method for you and enjoy a hassle-free ticket-purchasing experience.
So why wait? Check out the Tix app to discover exciting events; grab your tickets now and get ready to have a blast at your next event!