The Tix POS: A better way to sell tickets offline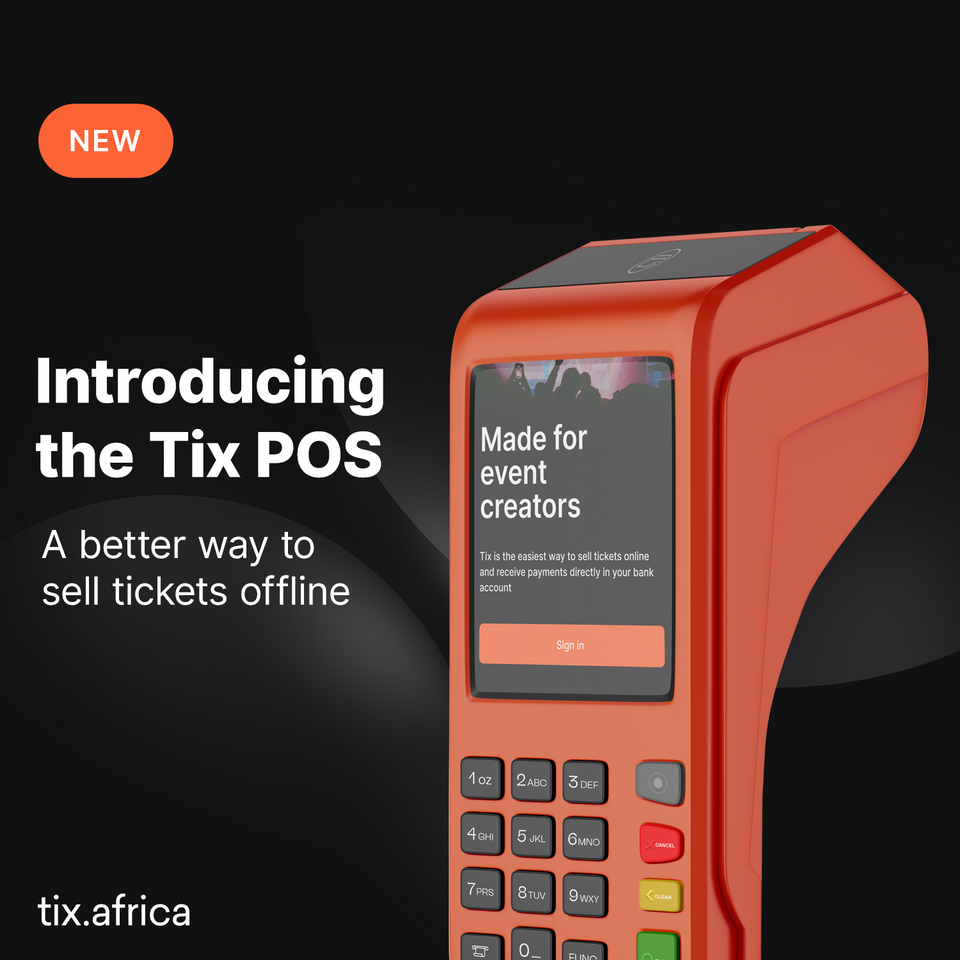 Selling out tickets and increasing event revenue is the number one concern for many event creators. That's why the events industry has developed many clever and extraordinary ways to boost event revenue for years. Selling tickets at the door of your event venue is an excellent strategy to increase revenue and cater to event attendees who like to buy tickets at the door.
While most event attendees still purchase tickets online to take advantage of discounts, faster entry to the event, and many more benefits, studies show that about 45% of event attendees get their tickets to free events at the venue of the event, while for paid events, this number is about 20%. Buying tickets at the door of an event was the original way to purchase tickets. People come to your event venue on the day and buy tickets before going in.
However, an advantage of your guests buying tickets online is that you collect data like names, emails and phone numbers from your attendees. This data tells you how many people came to your event and allows you to promote your next event to the same audience!
There hasn't really been an efficient way to collect data from attendees who buy tickets at the event venue, but that changes now.
Introducing the Tix POS
The Tix POS gives event creators a better way to sell tickets and collect data from their attendees offline. We collaborated with our good friends at Paystack and got early access to the Paystack Terminal that we used to build an easy-to-use POS app that allows our event creators to sell tickets offline. We believe you don't have to give up data to get offline ticket sales, so we built the perfect solution.
Let's talk about all the incredible ways the Tix POS can elevate your experience selling tickets offline.
Receive payments for tickets through multiple channels
Most POS terminals only accept card payments. And this makes it hard for event creators to sell tickets to attendees who would like to buy through other means. With the Tix POS, you can accept ticket payments through card, USSD, and bank transfer. So, whatever your attendees' preferred payment method is, we've got you covered.
Get to know attendees who buy tickets offline
As we said earlier, a significant advantage of buying tickets online is that you get essential information about your attendees. Before the Tix POS, you could only get these details from attendees who bought their tickets online, or you could manually collect them from attendees to get their tickets at the door of your event, which is long and tiring. Now, your attendee gets to input these details right from their own phone, which speeds up the ticket-buying process from the Tix POS and gives you the data you need, just like they're buying it online!
Track all your sales from your phone
A major disadvantage of selling tickets offline is revenue leakage, i.e. not knowing how many tickets you've sold in total or how much you've really made from that event. Revenue leakage is common when you've sold some tickets online with Tix, and you can see this sales summary on your dashboard. But you also sell some more at your event, and there's no way you can see the summary of those sales. The Tix POS solves that problem because you get to sign in to your Tix account on the POS device, and any sales made from there can also be viewed on our sales dashboard.
Generate QR codes
When your attendees buy tickets online, a QR code is sent to them so they can be scanned at the event venue and checked into the event. This is also possible for attendees who buy tickets on the Tix POS. After payment, a QR code is generated on the POS terminal, and you can check in that attendee without scanning it, all on the same device. Attendees can also receive their receipts via email and view it on the Tix app.
How to sell a ticket on the Tix POS
The first thing you need to do when you get your Tix POS is log in to your Tix account with your email and password. Next, follow these simple steps to sell your first ticket on the Tix POS: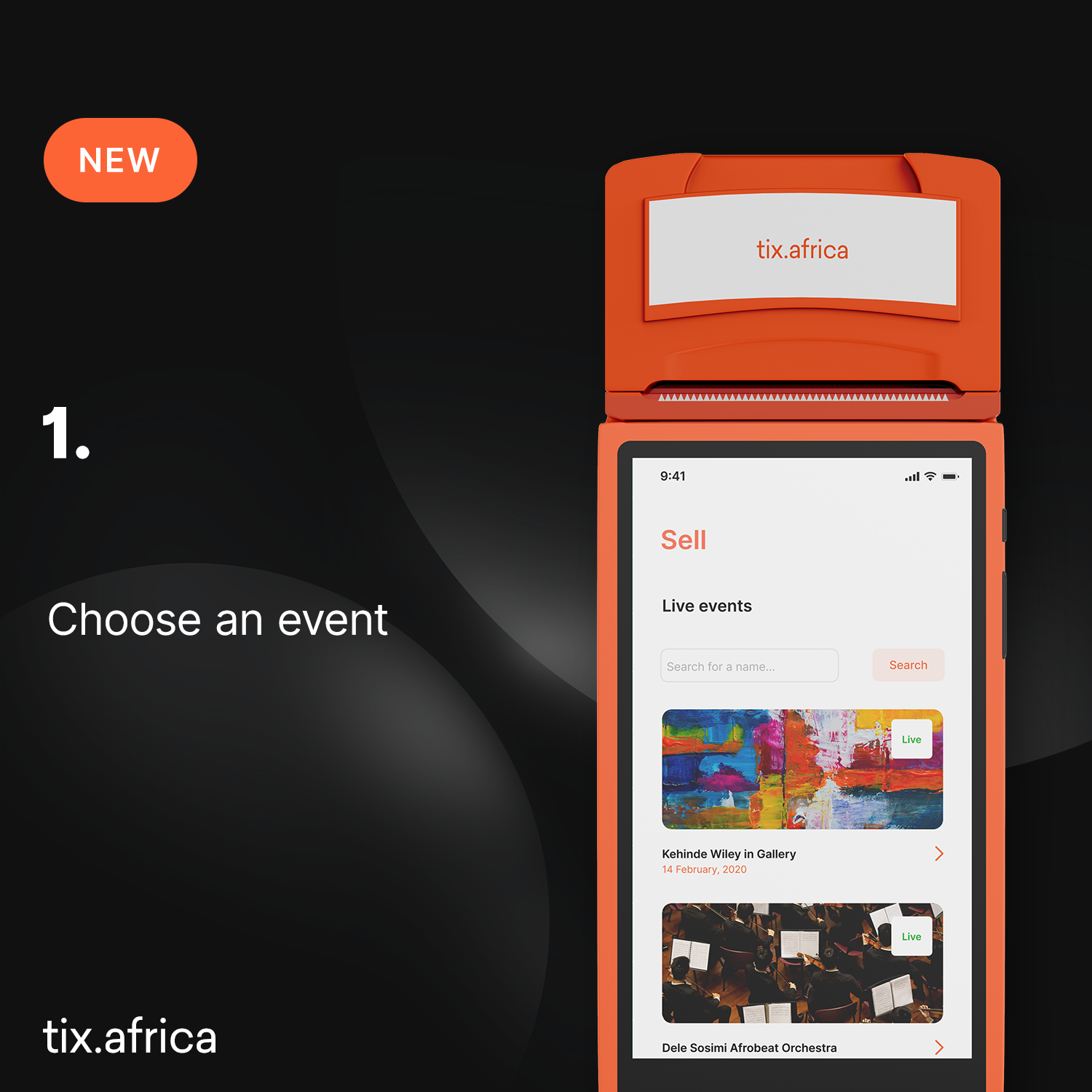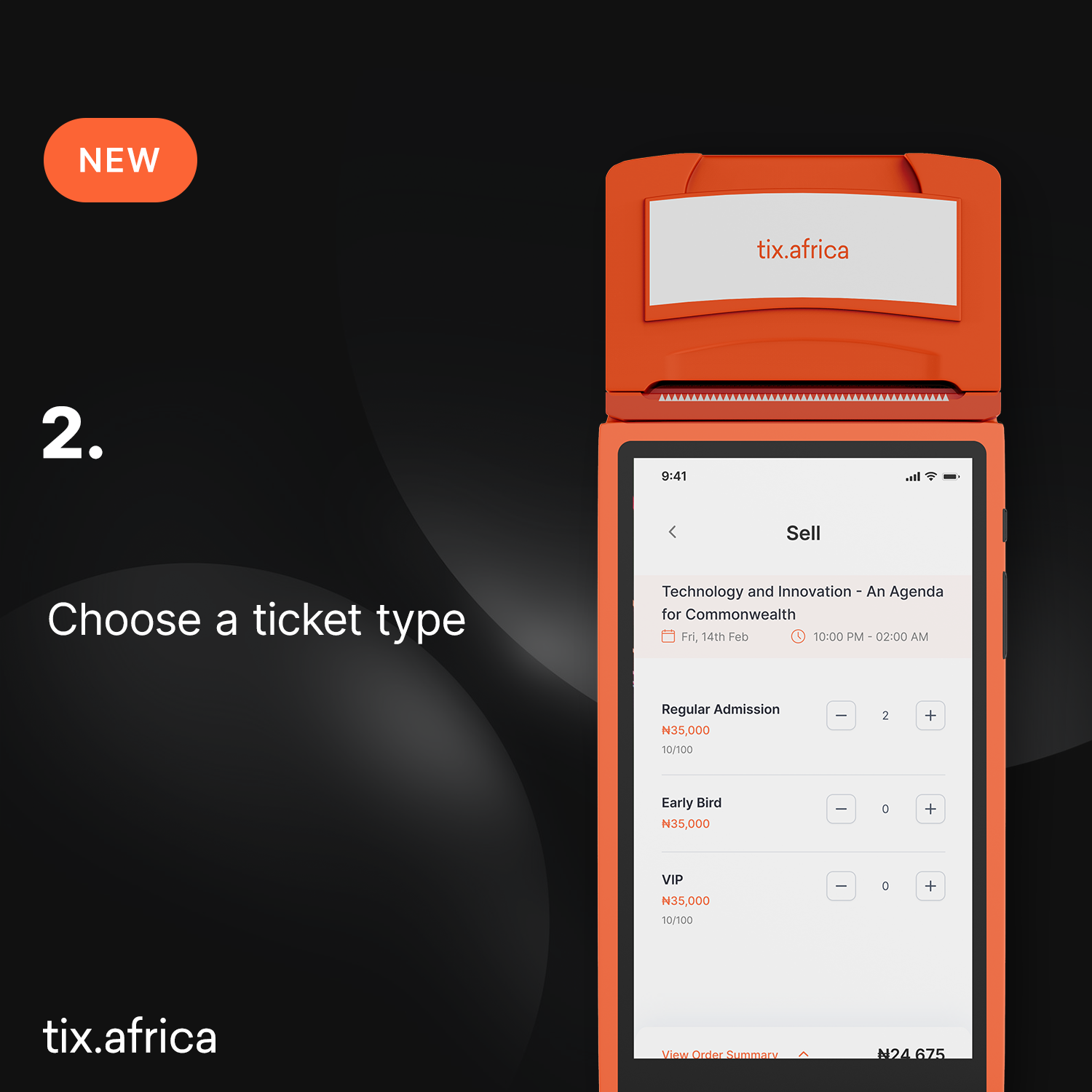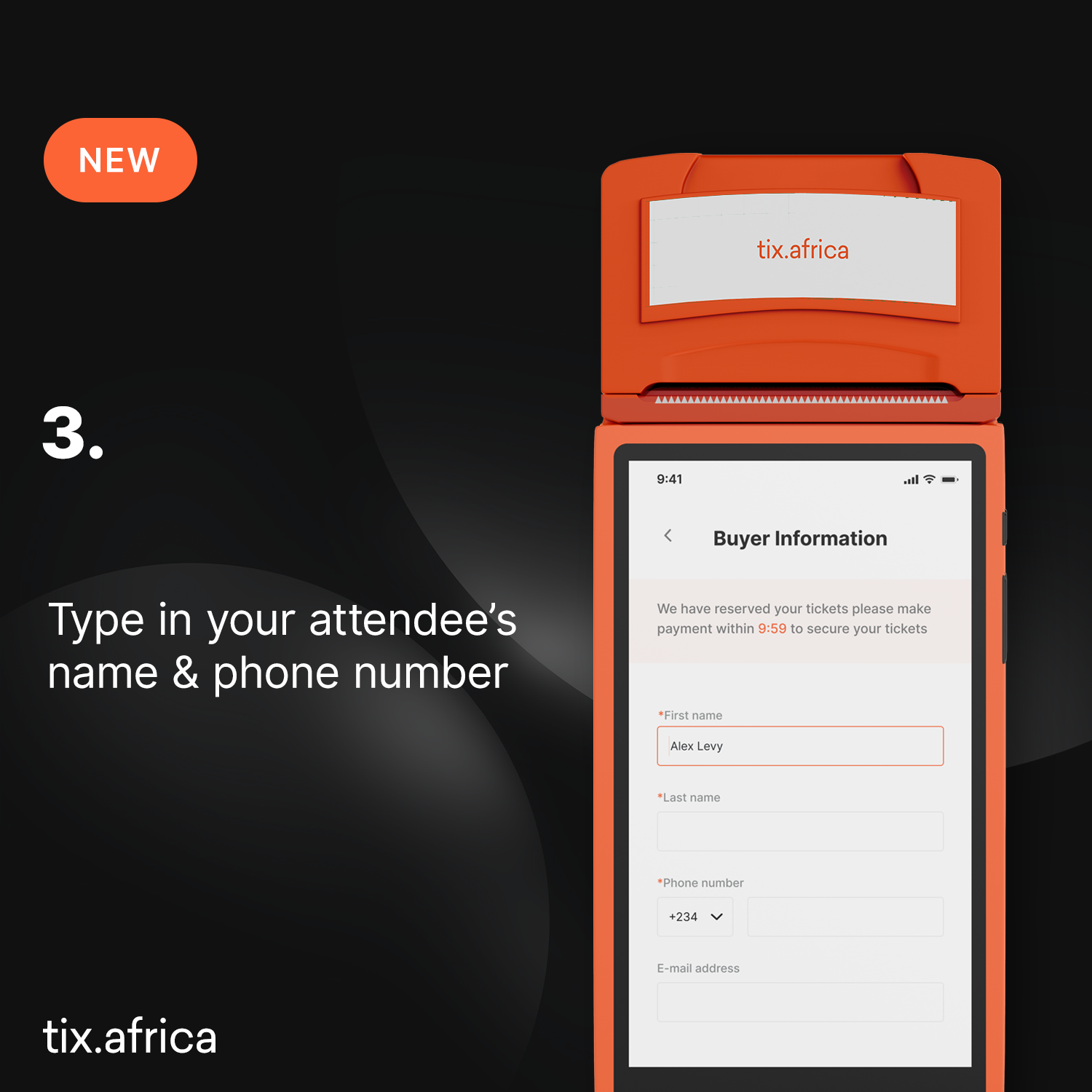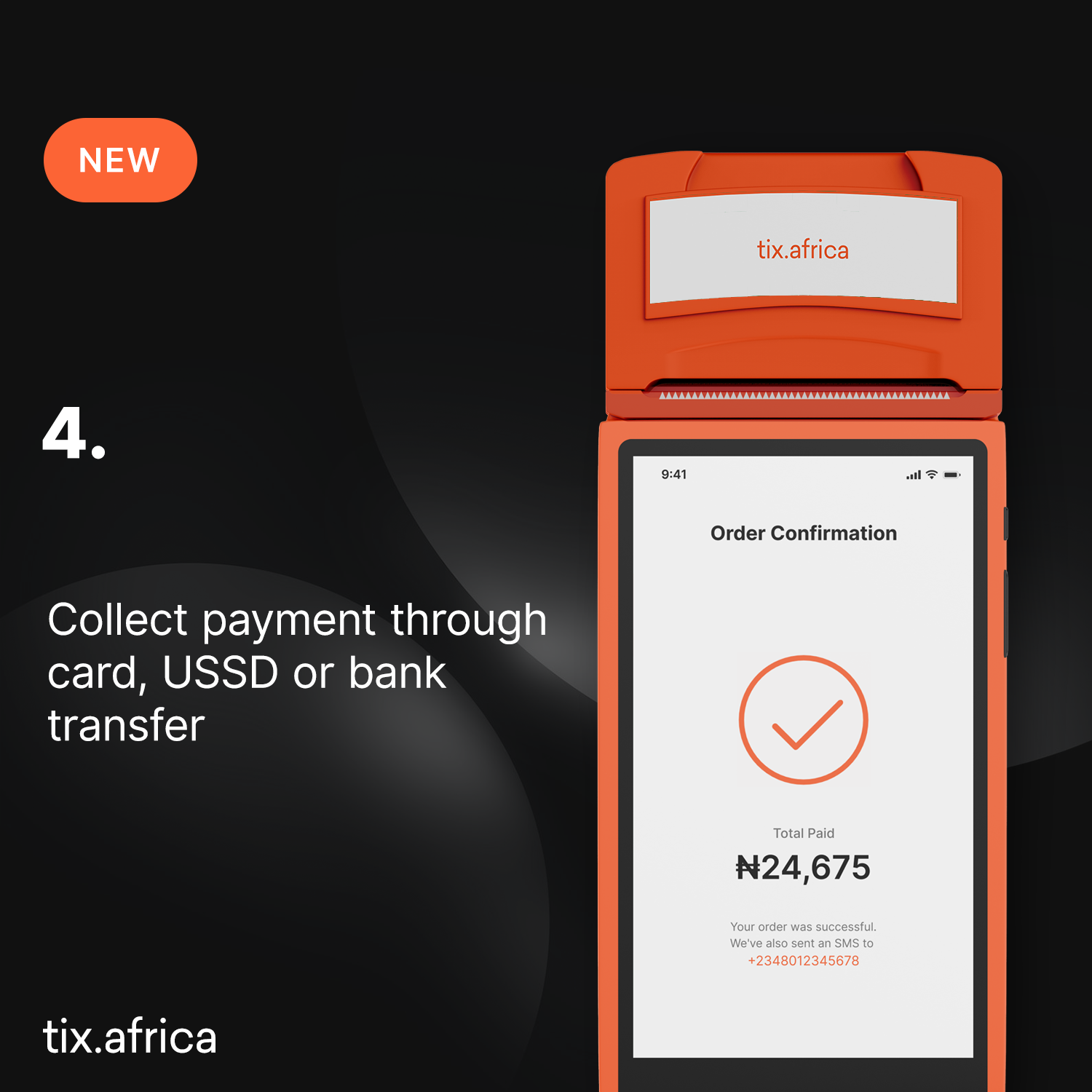 How to get a Tix POS
Click here to learn more about how you can get a Tix POS at your event.
We can't wait to see all our event creators maximising their offline sales with the Tix POS!