The Best Tix Tools for Beginner Event Organizers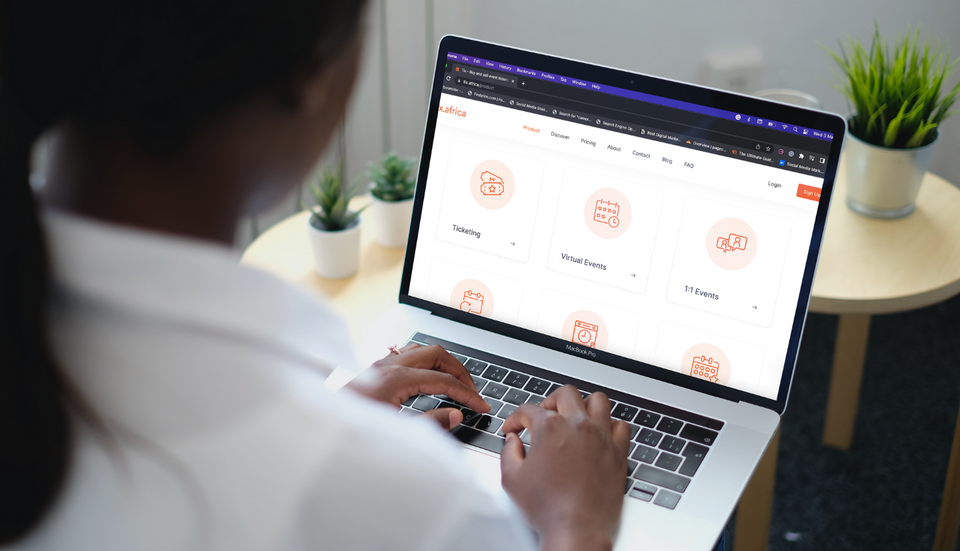 Creating unforgettable experiences for your attendees isn't really an easy task, especially if you're a beginner event organizer. There are so many things to think about, from planning the event to marketing it to managing the logistics. But don't worry, there are a number of tools and resources available to help you make the process easier.
What are Tix tools?
Now, let's talk about what kind of tools these are. Tix has tools that are designed to simplify and enhance the ticket sales and registration processes for events of all sizes. Basically, the days of manual ticketing and spreadsheets are gone. We're talking about Tix products and features like box office, 1:1 events, sales dashboard, the Tix app, and many more.
Why are Tix tools so important?
Let's say you're a gardener and you're trying to cut some grass in a field, but all you have is a cutlass. You get started and it takes you 3 days of constant cutting to get the whole field cleared. Now, imagine if you had a lawn mower. That cuts down the time and energy you spend on working on the field significantly. This is why Tix tools are important.
Not only do these tools streamline your ticket sales and registration processes, but they also enhance the overall attendee experience. With user-friendly interfaces, secure payment gateways, and mobile-friendly ticketing options, our tools make it easy for your attendees to purchase tickets and access event information. They're the best all-in-one package!
In this blog post, we'll explore some of the best Tix tools for beginner event organizers. We'll talk about their features, benefits, and real-life examples of successful events organized using these tools. Let's dive in!
Ticketing
Tix ticketing is an excellent tool for event beginners who are looking for a user-friendly ticketing solution. With Tix ticketing, you can easily create events, customize ticket types and prices, and set up secure online ticket sales. When you use Tix ticketing, you also create mobile tickets that allow your attendees to easily access and present their tickets through their smartphones, either by checking the ticket QR code in their email, or by easily checking the Tix app.
You can create and sell tickets in less than 10 minutes, and there are no fees for free events, which we're sure is great for any event planning beginner. Basically, Tix Ticketing is a great option for you. It is easy to use, affordable, and offers a variety of features that make it easy to promote your events and track your sales. Compare our pricing between Tix free and Tix pro so you can know what you need before you get started!
Virtual Events
Physical events are much more difficult for beginners to plan, so many start with virtual events. Using Tix makes it even easier, because you can seamlessly create and host virtual events of any scale, from webinars and workshops to conferences and networking sessions. When setting up a virtual event on Tix, you can either add your own virtual platform link, or use our Zoom integration to generate one for you!
Another great thing you do with Tix virtual events is connect your Zoom account to your Tix account. This way, links for the meetings you create on Zoom can be added to your Tix virtual event. Some great virtual events on Tix right now are Live Design Session, How To Find a Rental Home in the UK, and Forex Masterclass. You should definitely check them out!
Recurring Events
Let's say you're a beginner event organizer that'd like to plan multiple events that happen at intervals. For instance, if you're a yoga instructor that plans weekly yoga classes, recurring events is the best tool for you!
Whether you're organizing weekly workshops, monthly meetups, or biweekly conferences, this offers a seamless solution to simplify the entire process. Recurring Events allows event organizers to create an event, set up recurring schedules, and manage ticket sales for each occurrence. It also enables your attendees to conveniently purchase tickets for multiple occurrences at once, which makes it easier for them to buy tickets to multiple or all your events. One example of a recurring event on Tix right now is Mindful Pilates, an interesting Pilates class that you should definitely try if you're in Lagos.
1:1 Events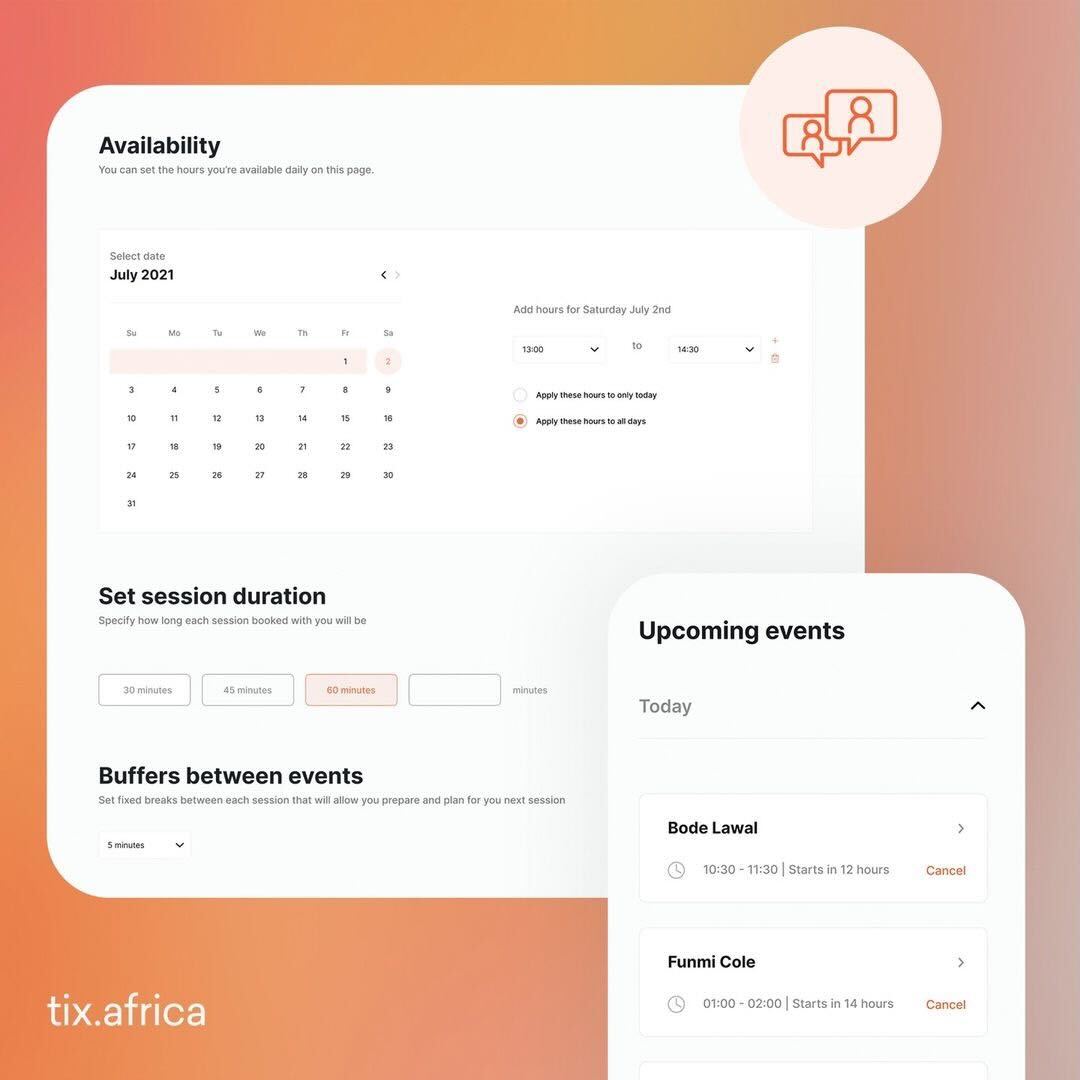 1:1 events isn't your regular event tool. This tool is perfect for anyone who wants to host a private 1:1 session, whether a coaching session, spa appointment, or anything in between. It's common with content creators and various types of coaches, but 1:1 events also has very unique use cases that will blow your mind.
With 1:1 events, you'll be able to create an event page, choose what dates and times you're available, and create free or paid tickets so your customers can book sessions with you and make payments. It's never been easier to plan a 1:1 session! Read all about how Amsterdam Lagos used 1:1 events in this blog post and upgrade to Tix Pro to create your first 1:1 event.
Box Office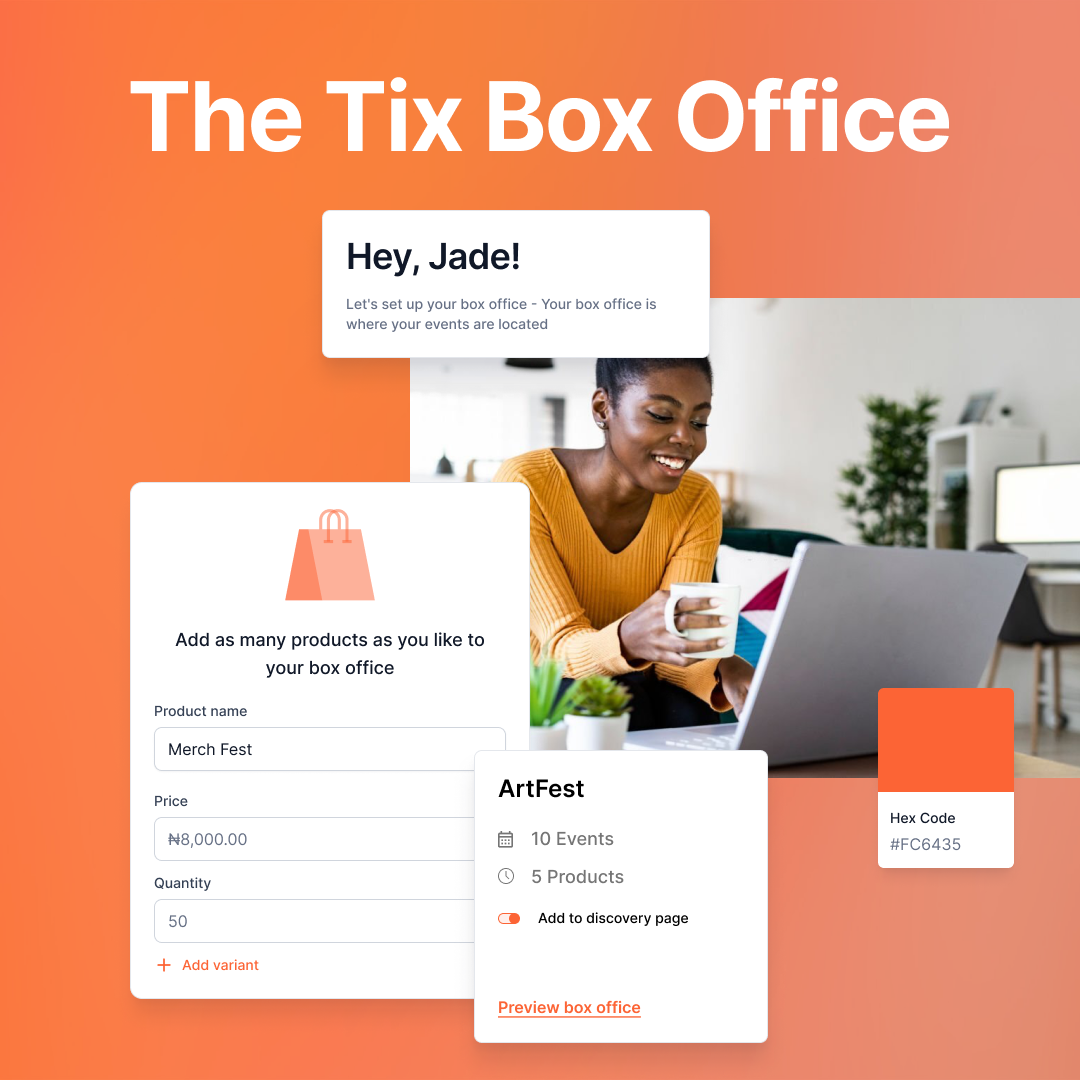 This is for our event organizers that have multiple upcoming events that aren't recurring events. It's probably a pain trying to promote these events by sharing multiple links in different social media posts. The Tix Box Office was created so event organizers like you could have an easy-to-use event website builder to generate an event website to display multiple events and products like merch too!
Box Office is an exceptional tool for beginner event organizers that don't have the resources or funds to hire experts to create an event website for them. In just 10 minutes, you can create one with Tix Box Office and display all your events in one place!
Discount Codes
Just like we said in this blog post, discount codes are a great marketing strategy to promote your event either by yourself, or in collaboration with sponsors and influencers. With Tix free, you can create a discount code to attract ticket sales from attendees. With Tix Pro, you can create as many discount codes as you want to promote your event, collaborate with influencers or have a flash sale!
Sales Dashboard
As a beginner event organizer, it's important to know how well your event is doing, what tickets are selling more, and how much your ticket revenue is. Your Tix sales dashboard gives you all this information and more.
Your sales dashboard is an invaluable tool for every event beginner looking to gain a comprehensive overview of their ticket sales and performance. It's a user-friendly dashboard designed to simplify the sales tracking process and easily monitor ticket sales in real-time. Using the sales dashboard empowers event beginners to make informed decisions and optimize their event planning and marketing strategies for their next event!
The Tix App
Meet your mobile event ticketing assistant, the Tix app! The Tix app for event organizers is a handy way to keep track of how your event sales are doing, check in your guests by scanning their ticket QR codes, change your bank account details, and even create event assistant profiles so your volunteers or staff can help you check in guests without knowing delicate account details like your password.
It would also be great to encourage your attendees to download the Tix app too, because they aren't left out of having cool event tools. They can search and discover your events on the app, buy tickets faster, and get into your event faster because their phone is their ticket 😉
Event Support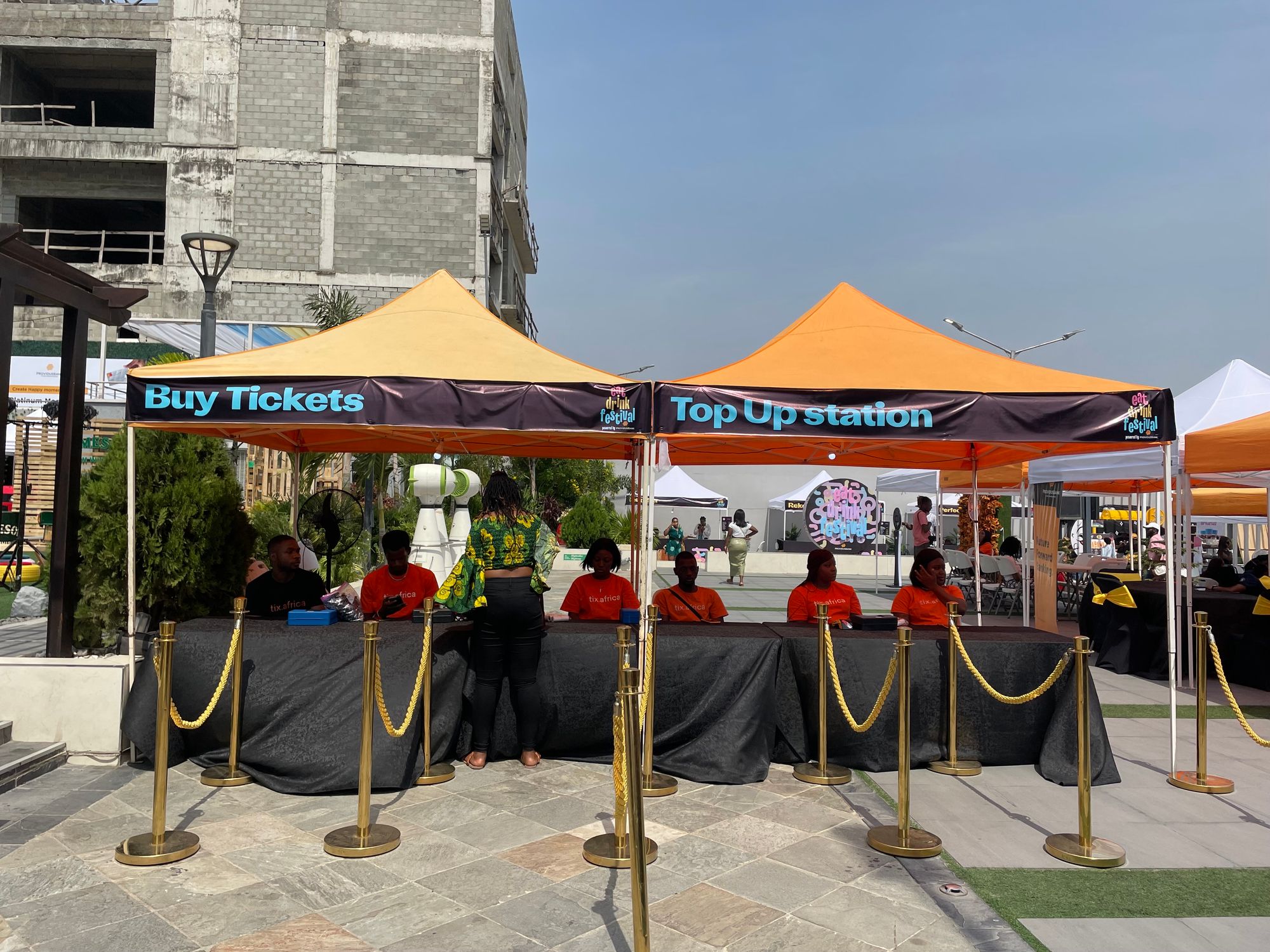 What happens at the entrance of your event venue on the day of your event if you're the only one available to check guests in? Most likely chaos. Even if you're planning a small event, it's important to outsource event check-in and support for ticketing at the event venue entrance so you can focus on what's happening in the actual event. That's where we come in.
Our team of event staff are trained to make sure you have nothing to worry about regarding selling tickets at your venue, and check-in guests in. Event support is one of the powerful tools we provide to event organizers to make sure everything goes smoothly on their event day, and their event is a success! You can read all about how we've contributed to achieving successful events for Jameson, and with our own event, Tixieland, on the Tix blog.
Tix tools can be lifesavers for event organizers, especially if they're beginners. We've created these tools so that you can effortlessly create and manage events, sell tickets online, track attendee registrations, and even collect valuable data and analytics to inform your future event planning endeavors. And we hope that you use these to achieve your event goals in no time! Ready to get started? Sign up to Tix to start your event organizing journey.